(version française ci-dessous)
La Violette Società – A situationist cabaret and a simple blueprint for quality and equality
Reactions have been surprising when we've explained the concept behind La Violette Società.
To us it makes perfect sense: a small and regular event where invited acts are equally billed, play for the same amount of time and receive an equal share of the proceeds. The event is promoted by our record label and the acts themselves via their social media networks. The audience at the shows will experience the act they know and like and came to see and are hopefully turned on to something new and different as well.
We've been approaching and inviting acts that we like and have been telling them all about it. The response has been like "that's an amazing idea". For smaller acts the equitable proposals are obviously surprising but in our eyes it's a case of "listen, you're a great band, why wouldn't it be this way?" As for the larger acts – and we've had the audacity to approach some big names – they have unanimously said  "We love the sound of that – what date were you thinking?" 
There are no boundaries to the acts we've been inviting: bands, authors, poets, stand-up comedians, drag acts, mime artists, school choirs, ventriloquists, magicians, performing animals, art or film performances. If we think they're really good we'll jump at the opportunity to invite them and bring them into a future 'Social.
One day we hope that La Violette Società will naturally evolve into a more regular event staged in different cities across the world – we have tentative plans for similar small events in Glasgow, London and Paris. There's no rampant ambition at play, it's just a simple concept which we know can be credibly applied to all social hubs and cultural communities. The ethics and quality criteria are more important than any scale or revenues – they will look after themselves.
The artwork and presentation for these events is crucial. The concept as ever being that the artwork should appeal directly to the people we want to pay attention. As longstanding fans of Ken Grant's photography we were delighted when he too agreed to be involved.
Matt Lockett // Violette Records
—
The inaugural La Violette Società took place at Buyers Club in Liverpool on 23 March 2016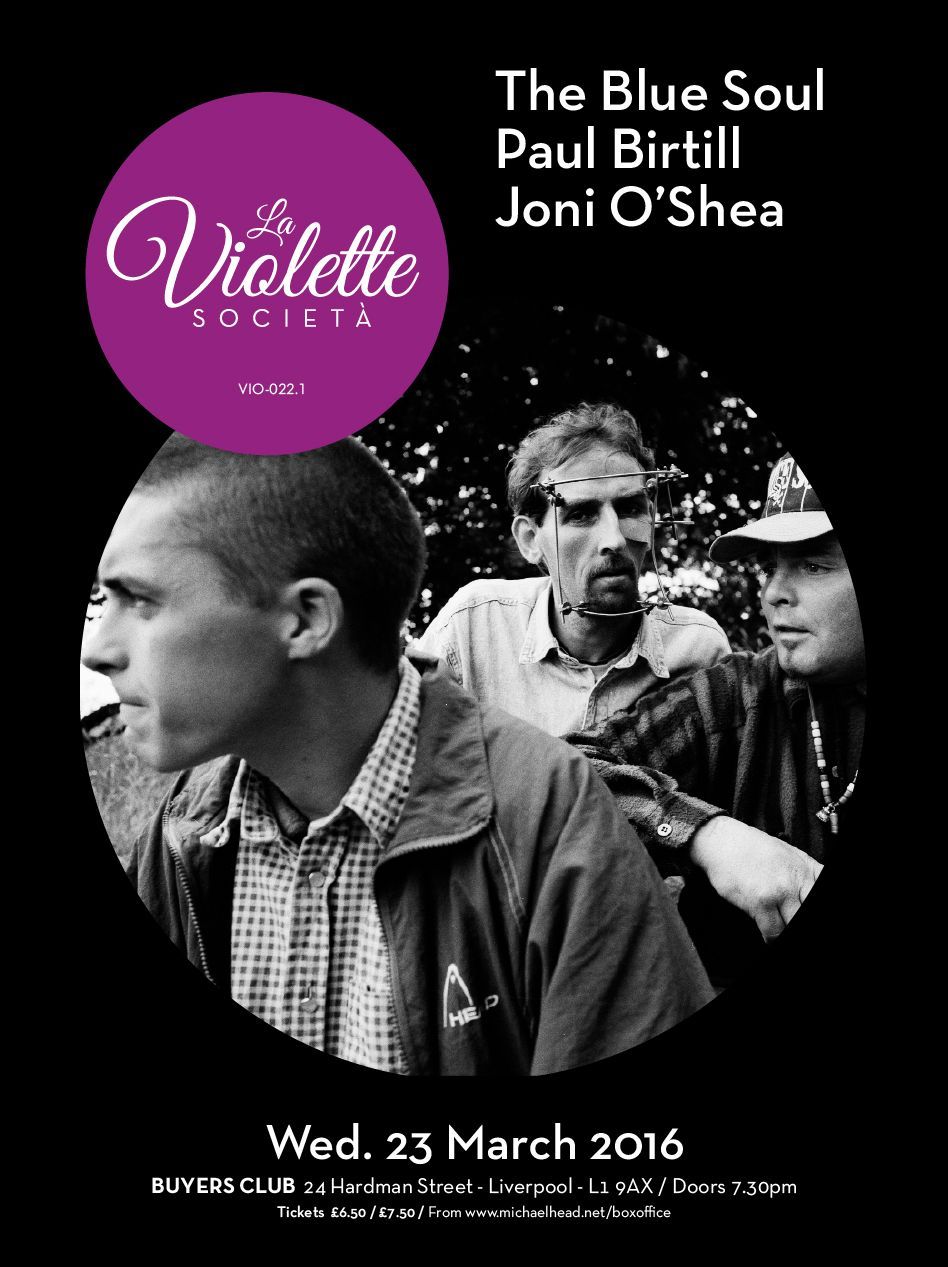 The next La Violette Società is at The Shipping Forecast in Liverpool on 27 July 2016
Tickets www.tickettailor.com
—
Violette Records is a record label based in Liverpool, Manchester & Paris largely dedicated to the output of Michael Head.
www.michaelhead.net
twitter.com/VioletteRecords
facebook.com/VioletteRecords
Enquiries: violette@michaelhead.net
---
La Violette Societa / A short film by Mark McNulty.
---
La Violette Società : un cabaret situationniste autour du partage et de l'équité.
Les réactions ont été surprenantes, lorsque nous avons présenté le concept de La Violette Società.
De notre point de vue, cela semblait une évidence : un petit événement régulier, où les groupes sont rémunérés équitablement, jouent le même temps et perçoivent une part égale des bénéfices. La promotion de l'événement est assurée par notre label et par les groupes eux-mêmes, au travers de leurs réseaux sociaux. Le public vient pour le groupe qu'il connait et soutient, et nous espérons qu'il profitera de l'occasion pour faire des découvertes !
Nous avons contactés les groupes que nous apprécions, et nous leur avons expliqué ce concept. La réponse a souvent été "c'est une idée fantastique". Pour les groupes  moins connus, cette proposition équitable est souvent perçu de manière surprenante, mais notre réponse a été "vous êtes un chouette groupe, alors pourquoi en serait-il autrement ?" Pour les groupes plus importants — car nous avons eu l'audace de contacter des groupes reconnus — ils ont répondu unanimement "on adore l'idée, quelle date est prévue ?".
Il n'y a pas de limite aux participants que nous inviterons : des groupes, des auteurs, des poètes, des comédiens de stand-up, des transformistes, des mimes, des chorales scolaires, des ventriloques, des magiciens, des animaux savants, des performances artistiques ou cinématographiques… Si nous pensons qu'ils en valent la peine, nous sauterons sur l'occasion de les inviter à nos soirées !
Nous espérons qu'un jour le concept de La Violette Società évoluera vers un événement plus régulier, dans plusieurs villes autour du monde — nous avons d'ores et déjà des pistes pour créer de tels petits événements à Glasgow, Londres et Paris. Aucune ambition dans cette perspective, si ce n'est la certitude qu'un tel concept simple, peut s'appliquer à toutes les communautés sociales et culturelles. L'éthique et les critères de qualité sont plus importants que l'échelle de l'événement en lui-même, où que les profits qu'il génère, et nous pensons que tout cela s'équilibrera naturellement.
Le design et la présentation de ces événements sont, comme toujours, extrêmement importants pour nous. L'idée était de créer une communication simple et directe, qui parle immédiatement aux personnes concernées. Comme nous sommes de grands fans de l'œuvre du photographe anglais Ken Grant, nous avons été ravis qu'il accepte de participer.
La première édition de La Violette Società se déroulera au Buyers Club à Liverpool, le 23 Mars 2016. Au programme, The Blue Soul, Paul Birtill (le plus grand poète anglais vivant) et Joni O'Shea (votre plus grand songwriter).
Les billets (£ 6 et £7) sont disponibles à cette adresse www.michaelhead.net/boxoffice

Pascal Blua // Violette Records
—
Violette Records est un label basé à Liverpool, Manchester et Paris, qui se consacre essentiellement à la diffusion de la musique de Michel Head.

www.michaelhead.net
twitter.com/VioletteRecords
facebook.com/VioletteRecords
Information: violette@michaelhead.net